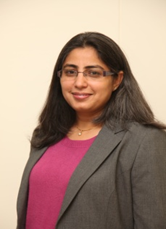 Ms. Vibha Batra
Chief Executive Officer / Co-Founder
---
Vibha Batra has close to 19 year of work experience including 16 years of Credit Analysis, Rating Analytics, Risk Management, Investor Interaction, Team management, Compliance and Regulatory Affairs at ICRA.
Till July 2016, Vibha was part of Leadership team at ICRA (a subsidiary of Moody's Investors Service), a Leading Credit Rating Agency in India.
Vibha also led the process for accreditation of ICRA by the Reserve bank of India for 'New Capital Adequacy Framework' under Basel II'.
Vibha has credit rated over 1500 investment grade companies through various credit cycles as part of Financial Sector Head and as a Rating Committee member. She also led the credit rating transition and default studies at ICRA.
This experience gives an edge to Vibha in identifying key factors impacting the credit profiles of the entities, likely impact of various external and internal changes on the credit profiles and the differentiating factors which help some companies in protecting their credit profiles under stress scenario.
Vibha's experience is likely to help FairConnect in developing and implementing the credit evaluation matrix to select the stronger credit profile companies as investee companies, building teams to execute the transactions and monitoring the investee companies to mitigate ongoing risks. In addition, Vibha's relationships with the investee companies, knowledge of the regulatory environment and the financial markets in India would help her in building a resilient credit focussed investment portfolio for FairConnect.
Vibha has done her management degree fromIIMB in 1999 and her B Tech fromNDRI in 1994.